BLOOMBERG : In the World's Most Livable Cities, Hardly Anyone Can Afford a Home
By Emily Cadman — With assistance by Hannah Dormido
4 octobre 2017
Supercharged by record low interest rates, a lack of supply and a tax system that favors property investors, home prices have surged more than 140 percent in the past 15 years, propelling Sydney past London and New York to rank as the world's second-most expensive housing market. Melbourne, ranked the world's most livable city the past seven years by the Economist Intelligence Unit, is now the planet's sixth-most expensive place to buy a house.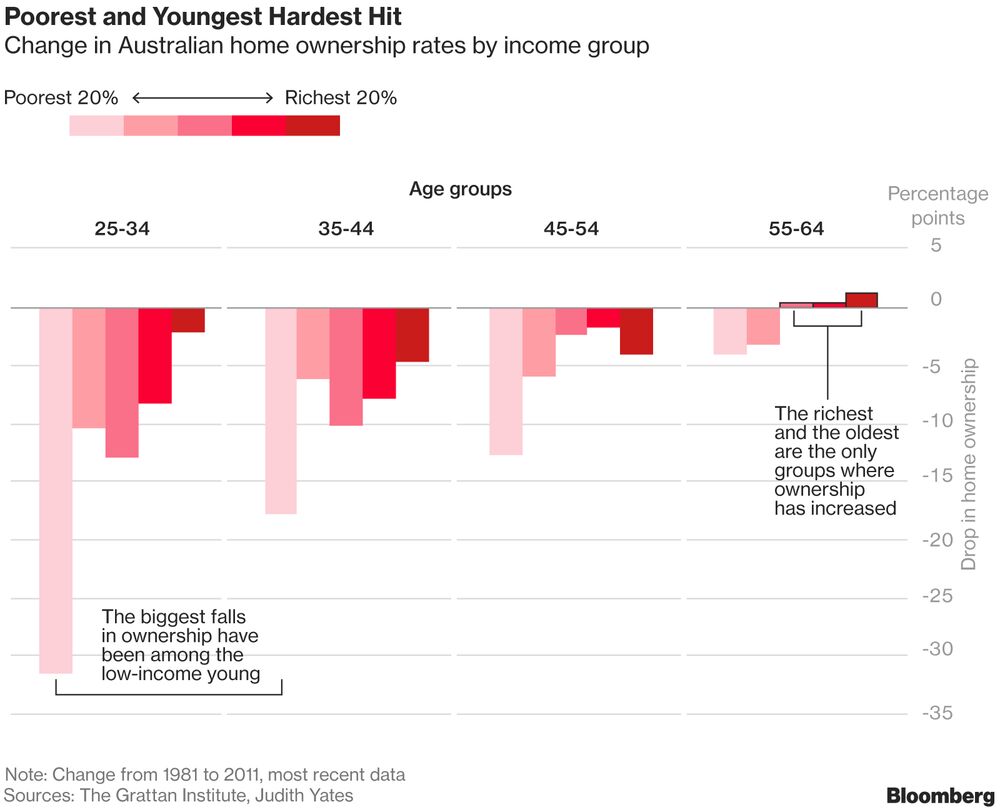 One of the biggest flashpoints are tax incentives that have turned housing into a speculative financial asset. First-home buyers complain they can't compete against investors, who through a perk known as negative gearing can claim the costs of owning a property-for-rent -- including mortgage interest -- as a tax deduction against other income. The allure of property investment was turbocharged in 1999, when capital gains tax was halved. With housing prices seen as a one-way bet, investors piled in.
As the average price of a Sydney home sailed past A$1 million, housing affordability fell victim to the hyper-partisanship that has gripped Canberra over the past decade and paralyzed policy making. During last year's election campaign, when the opposition Labor party proposed changes to limit negative gearing to newly-built houses and reduce the capital gains tax discount, Prime Minister Malcolm Turnbull retaliated by ruling out any changes and launched an assault claiming Labor's move would "take a sledgehammer" to the property market and "punish" mum and dad investors.
There is also a social cost to sky-high house prices. Workers such as teachers, nurses and other low-to-middle income earners can't afford to live in the communities they serve, while young people who stay at home longer while saving a deposit might delay marriage and childbirth.

"It's a very different atmosphere in Australia,'' said Professor Richard Ronald of the University of Amsterdam's Centre for Urban Studies. "I haven't come across this kind of resistance elsewhere to the understanding of 'Generation Rent' as a fundamental shift in history."