Rien. Cela ne fait "que" -8.7% en rythme trimestriel.
---
Modérateur

Messages : 9940
Enregistré le : 24 août 2011, 20:31
Zont pas de gros filet de sécurité pour amortir les crises les tasuniens.
Il vaut mieux garder une poire pour la soif, chez eux impossible de "s'enrichir" avec le RSA.
Mélenchon a écrit :«Vous allez cracher du sang avec Fillon, Macron ou Le Pen !! »
---
Oui ça je sais, mais sans confinement ou presque c'est étonnant que ça baisse autant, pour rappel certains ici parlaient de non événement pour le covid etc...
---
Modérateur

Messages : 9940
Enregistré le : 24 août 2011, 20:31
Et en moins de deux mois, plus de 36 millions d'Américains au chômage. Ça compte ?
Mélenchon a écrit :«Vous allez cracher du sang avec Fillon, Macron ou Le Pen !! »
---
Derby a écrit :

https://www.reuters.com/article/usa-hou ... SL2N2F029X

U.S. renters owe $21.5 billion in back rent; Republicans offer no eviction relief

NEW YORK, July 29 (Reuters) -

More than $21.5 billion in past-due rent is looming over Americans struggling to make ends meet, global advisory firm Stout, Risius and Ross estimated on Wednesday, as Republicans and Democrats fight over a new COVID-19 relief package.

Senate Republicans this week proposed a new plan that would not reinstate the recently-lapsed federal eviction ban, which carried a stay for rent due for one-third of renters. Adding to the strain, enhanced $600 weekly federal unemployment benefits are set to evaporate this Friday.

Without a solution soon, the likely result

"will be a staggering surge in homelessness unlike anything we have seen,"

said John Pollock, a Public Justice Center attorney and coordinator of the National Coalition for a Civil Right to Counsel (NCCRC), which helped develop the eviction tracking tool with Stout, Risius and Ross.

The unprecedented amount of back rent is not a macro-economic game changer, said Moody's Analytics Chief Economist Mark Zandi. But for renters,

"it's catastrophic. Very few people will be able to pay this back,"

he said.

A debt spiral could haunt displaced tenants

"for a lifetime,"

he added.

Over the spring and early summer,

as unemployment surged to levels unseen since the aftermath of the 1930s Great Depression,

a patchwork of federal, state and local

eviction bans kept renters in their homes.

On Friday, the eviction ban that covered the third of renters in buildings with mortgages backed by the federal government lapsed.

The rent deferred over four months is now due, as is all the rent where local and state moratoria on evictions have also ended.

When rent goes missing over such an extended period, the low-end of the market becomes

a house of cards and

"it starts to fall down,"

said Emily Benfer, who co-created the COVID-19 Housing Policy Scorecard at Princeton University's Eviction Lab, a national research center on evictions.

"Risk of eviction increases, risk of foreclosure and bankruptcy follows, property taxes go unpaid leaving communities and schools under-resourced,"

said Benfer, a visiting law professor at Wake Forest University.

The Democratic-controlled House of Representatives passed a measure in May that would have extended the enhanced jobless aid through January and allocated $100 billion for rental assistance. It would also have extended the federal ban on evictions for up to one year.

The Republican-controlled Senate package unveiled Monday focuses on getting kids back in school, workers back to work and winning the fight against the virus, the Office of the Senate Majority Leader said in a statement.

It proposes cutting the enhanced unemployment assistance to $200 a week, and does not mention housing, evictions, or reinstating the eviction ban.

The Senate Republican Communications Center did not respond to requests for comment.

The Senate Banking Committee, which oversees housing, cited a statement by Senate Banking Chairman Mike Crapo (R-Idaho) on Tuesday.

"I can't answer that yet,"

he told reporters when asked about an extension of the eviction moratorium. "

There will be something, I hope, dealing with rental assistance."

An avalanche of filings are hitting eviction courts nationwide,

as hearings ramp up again online, in courtrooms that require social distancing, and even at the Columbus, Ohio convention center.

In July alone, 21% of renters paid no rent,

according to research firm Apartment List.

Stout and the NCCRC analyzed census survey results and income data to create their eviction tracker, which uploads data weekly.

Of the 44 million U.S. renter households, 17.3 million are unable to pay rent and risk eviction

, the tracker estimates.
---
Hippopotameuuu

a écrit :

↑

30 juil. 2020, 19:13

Et en moins de deux mois, plus de 36 millions d'Américains au chômage. Ça compte ?
Si évidemment sauf que ça ne cadre pas avec ce que disent certain ici, que tout est fini, que c'est un non événement, toussa toussa, si c'était réellement le cas ça n'aurait pas plongé autant.
---
Messages : 686
Enregistré le : 31 août 2011, 20:35
Localisation : paris
http://www.autochtonisme.com/2020/07/gu ... -101728888
extrait : Si l'on raisonne globalement, en se limitant aux grands traits, on dira que les états-uniens se divisent et interagissent sans trop se mélanger à l'intérieur de quatre grandes sociétés qui s'ignorent et se haïssent. Ces quatre sociétés obéissent à des problématiques qui leur sont propres. L'oligarchie forme une de ces sociétés, les minorités ethniques en forment une seconde (il y a en fait autant de « sociétés » que de minorités), les Blancs « zombifiés » une troisième, et les Blancs « conservateurs » une quatrième.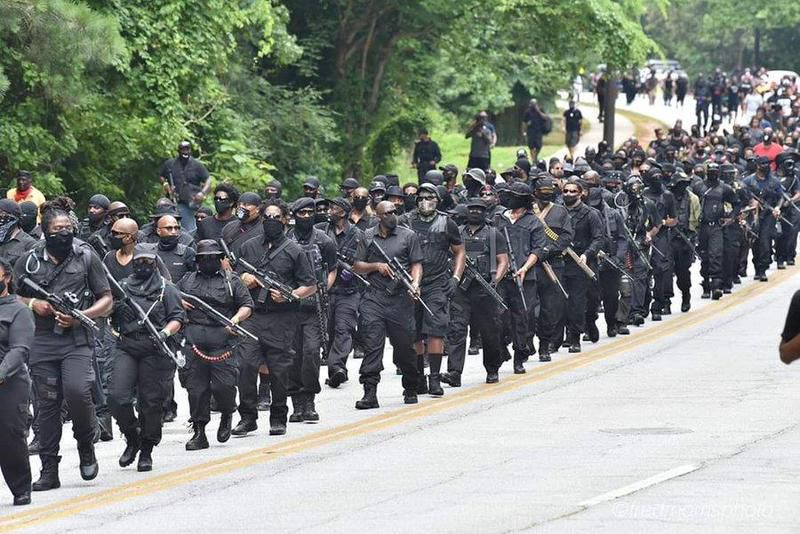 La milice noire NFAC au Mount Rushmore, 4 juillet 2020
---
Quoi il n y a pas que les blancs raciste pro trump qui sont armés jusqu'au dent ?
---
Très bon
---
~~+

Messages : 12163
Enregistré le : 14 avr. 2013, 19:41
EXXON viré du DOWJONES ou il figurait depuis 1928 !
Salesforce prend sa place dans l'index.
Exxon Gets Kicked Out Of The Dow Jones Industrial Average

By Irina Slav - Aug 25, 2020

Exxon is being kicked out of the Dow Jones Industrial Average index, where it has had a place since 1928. The reason: the Dow needed to make space for other, more valuable companies—and Apple's stock split, CBS News reports.

The change will be effective on August 31.

Exxon, which was the oldest member of the index for the last two years after Dow removed GE, has been one of the most valuable companies in the U.S. and the world for decades. That is until Big Tech showed up and began changing the world, its stock reflecting this change by swelling market caps.


When Apple recently passed the $2-trillion valuation mark for a few hours, it became the most valuable company in the world.

Meanwhile, Big Oil—and Exxon specifically—hasn't been faring all that well. Energy, which featured solidly on the index and in people's lives a few decades ago, is being booted out by technology—Exxon's replacement on the DJIA is a software company, Salesforce.

And then there is the climate change narrative and the accusations that Exxon knew about it but did not do anything about it. And it is not doing anything about it still, according to critics, unlike European supermajors, which are all but racing towards renewables.


Meanwhile, the double blow from the Saudi price war and the pandemic hit the world's largest public oil company hard. Exxon reported two quarterly losses this year, blaming oil prices and the effect of the pandemic on oil's fundamentals. It is reducing its production in the face of lower demand and adjusting its spending plans like its peers to weather the worst of the crisis.

In the end, however, it is just about its share price. At a little over $42 a piece at the time of writing, Exxon is just too cheap for the DJIA, cheaper than the only other remaining energy company on the index: Chevron. Chevron is trading above $82 per share.

https://oilprice.com/Latest-Energy-News ... erage.html
---
~~+

Messages : 12163
Enregistré le : 14 avr. 2013, 19:41
La dette des sociétés pétrolières nord-américaines pourrait atteindre 168 milliards $ en 2022

Agence Ecofin 26 août 2020

Avec une dette colossale et une trentaine de faillites cette année, l'industrie pétrolière nord-américaine continue de souffrir de la conjoncture. Les analystes pensent en effet, que si le baril de WTI reste dans la fourchette des 40 $ d'ici 2022, cette dette atteindra 168 milliards de dollars.

Dans une analyse publiée lundi 24 aout 2020, le cabinet norvégien d'analyses du secteur pétrolier Rystad Energy a déclaré que la déroute du secteur nord-américain du pétrole risque de se poursuivre avec un baril du WTI autour de 40 dollars. Si des entreprises E&P (Exploration & Production) et de services ont pu sortir la tête de l'eau grâce au baril qui a atteint la barre des 40 dollars, il s'attend à ce que 125 autres demandent la protection du chapitre 11 de la loi sur les faillites d'ici 2022 si les prix ne s'élèvent pas bien au-delà de ce niveau.

Avec des niveaux de prix du WTI inchangés, cela porterait la dette totale de l'E&P nord-américaine et des services associés pour 2020-2022 à environ 168 milliards de dollars, soit 36 % de plus que les 122 milliards de dollars enregistrés en 2015-2019. La dette des E&P à elle seule sera de 142 milliards de dollars. Le reste concernera les services.

Cette étude est basée sur une analyse des flux de trésorerie couvrant environ 10 000 E&P pétrolières et gazières ainsi que les services connexes, actifs en Amérique du Nord.

Cette année, 32 entreprises E&P ont demandé la protection de la loi sur les faillites. Elles cumulent une dette de 40 milliards de dollars.

A cette allure, l'année prochaine, il s'agira de 68 autres et 57 en 2022, ce qui ajoutera respectivement 58 milliards de dollars et 44 milliards de dollars de dettes.
https://www.agenceecofin.com/compagnies ... ds-en-2022
---
~~+

Messages : 12163
Enregistré le : 14 avr. 2013, 19:41
Le prix du gallon d'essence aux US au plus bas depuis 2004. 2.22 dollars le gallon en moyenne. .
U.S. gas prices at lowest since 2004
For those getting in the car and traveling over Labor Day weekend, there's good news.

According to the Energy Information Administration, U.S. gasoline prices are at their lowest since 2004.

As of this Monday, the U.S. average price stood at $2.22 per gallon.

"U.S. gasoline prices are relatively low because of continued low demand for gasoline since mid-March, when travel demand fell because of efforts to limit the spread of coronavirus," the EIA said.

https://agmetalminer.com/style/industry-news/
---